Anu is a 26 year old married woman. Her hubby is in UAE. Anu's parents are with her brother in Australia. And she had butt length hair. She maintains her hair properly, for the past 5 to 6 years she has not even cut her hair. Before her marriage she maintained her hair till middle of back length. Her mother in law and sister in law used to stay with her. One day her mother in law informed about her head shave event at her family temple. Initially she shocked about this after then she accepted her head shave. But the only thing she said, she will shave her head after one month only because she is working as teacher in a school and the examinations are going on, so once finish the examination the summer holidays are coming that time she will shave her head. Her mother in law also accepted her request.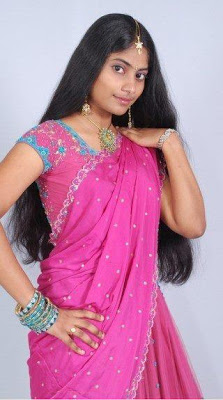 And the summer holidays came, she asked about her head shave event at the temple, They told that they are planning to going to the temple on next day. And the next day morning all three of them started in a taxi.  Once they reach they meet the local person and they informed for the pooja and purchased pooja items and notified barber of tonsure. Her mother in law said they will come at sharply 7 am to temple. And they reached in the evening in the temple, and they staying in the temple house.
 And the tonsure day has came, Anu is in nervous mood for her tonsure, but her sister in law started convincing her. Then they took bath and Anu wearing a new churidhar, and they are going to the temple.by the time the local person brought the pooja ingredients, and he said that the barber is waiting under the tree with the new razor and materials needed for a tonsure.

     Her mother in law turned back to Anu and told please fulfill your vow and come here, and she said to her daughter please go with Anu for the tonsure. Both of them went in to the barber place and sat under the tree. Barber saw both of them and asking who is going to get shaved, Anu replied it's me. Then the barber said pls sit here. Anu sat in front of the barber and loose her hair, but the barber said, I will take care please bend your head, then he remove her rubber band and free her hair nicely. Next he took the milk and pour it in her head and softly massaged her head.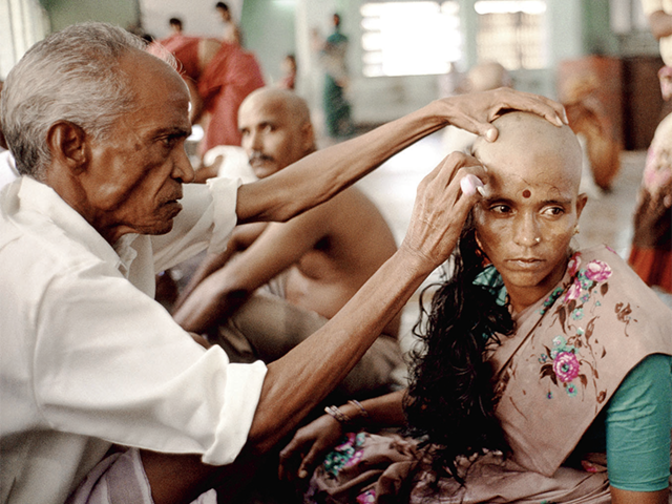 Then he ask to Anu you want any haircut or direct head shave, she said anything is ok. But her sister in law said pls cut her hair shortly then shave her head. Barber also accept that and he took the scissor, by the time Anu is crying like anything, but he is not consider this he cut her long hair upto her shoulder, she had nice bobcut, by the time her sister in law took the photos in her mobile, and again he cut her hair like boycut style, this time also she took the photo, then he finally cut her hair very shortly, all the hairstyles her sister in law took photos. Then the barber took the new half blade and inserted in to the knife, and start shaving her head in the middle. The white plate reveal in her head. Another 2 minutes she was in half bald look. Then he went to her back side and shaved properly in the right and left side. She is completely bald. Once again the barber shaved her bald head nicely. Then he said to Anu it's completed. Her sister in law gives the money to the barber.
And Anu stand and going for the bath, her sister in law also went with her. Both of them went to the backside of well and she sat near by the well, her sister in law took the water and pour in her full body, for 3 to 4 times. Then Anu rub her bald head and went to the near by one small room for her dress chage, her sister in law gave the new saree to her. Another 5 mins she came with new saree with lovely  bald head. And asking to her sister in law how is my look. She said it's awesome, you are looking cute in this bald head. Anu smiled and she asking sandal for her bald head. Her Sister in law said the sandal is with her mother. So both of them went to the temple. Her mother in law preparing some pooja things, she look Anu and said, you are beautiful and again Anu  smiling for the comment. Then she is asking the sandal, she gave the sandal to Anu, she is applying the sandal in her bald head. Her sister in law again took one photo. Then her sister in law asked to Anu you want cover your bald, she replied no problem i can manage. And another half an hour the temple pooja got over, and three of them starting to their place.